Top 10 Beste FREE EQs
Top 10 Beste virtuelle Free EQs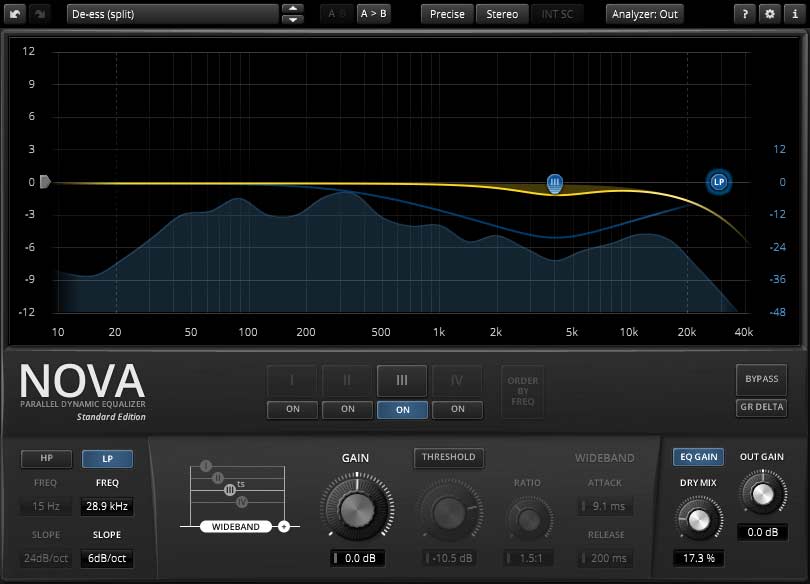 Tokyo Dawn Records (TDR) has released NOVA, a free parallel dynamic equalizer plugin for Windows and MAC OS, available in VST, AU, AAX (32-64bit) plugin format.
This freeware EQ plugin features 4 dynamic EQ bands plus additional high-pass and low-pass filter sections. You can get the right loudness setting for your sound using intuitive equal loudness functions.
The user interface is a classic "Knob" interface, very intuitive, offering quick access to all parameters. NOVA keeps the family look of parametric equalizers plugins, with dynamic section on each band. This allows you to use NOVA on a wide range of tasks such as parametric equalization, dynamic equalization, frequency selective compression or expansion, multi-band compression or expansion and wideband compression.
NOVA free eq plugin comes with all helpers and workflow enhancements: a preset manager, A/B, undo/redo, detailed documentation, copy/paste and more.
Let's recap NOVA's main features:
it's a parallel dynamic equalizer
4 dynamic EQ bands
high-pass and low-pass filters
wide range of applications
have a classic, intuitive "knob" interface
preset manager
detailed documentation
best of all, it's 100% FREE
You can download NOVA free EQ plugin from TDR website. As we mentioned right from the start, NOVA can be used on both Windows and MAC systems. The plugin is available in VST, AAX, AU, 32 & 64-bit plugin format.
Mit Logic Pro x 10.3.1 getestet!
More Details: NOVA
Метки: Audio News, Free Plugins